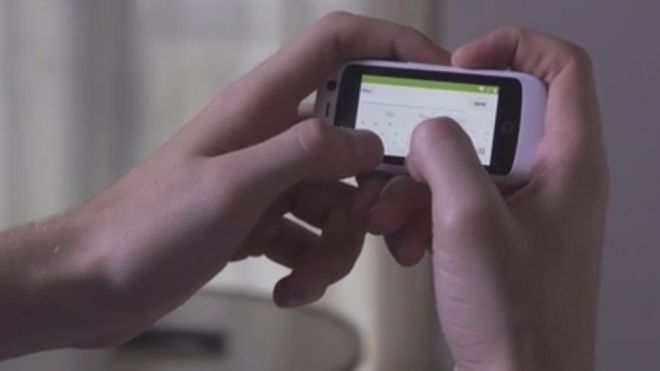 UNIHERTZ
The Chinese firm behind a palm-sized 4G smartphone has admitted that the handset's performance may fall short of expectations in certain circumstances.
Unihertz says the Jelly phone battery has up to three days of working time and lasts seven days on standby.
But chief executive Stephen Xu told the BBC that "heavy use" could reduce battery life to three or four hours.
This included keeping wi-fi and Bluetooth switched on all the time, he said.
"If you use a phone quite a lot even an iPhone can't last a day," Mr Xu said.
The Jelly battery should last about a day with "normal use", he added.
He said problems reported by some Jelly users with GPS functionality were down to a combination of hardware and software reasons. Unihertz hoped to issue an update soon, he said.
"[With Jelly,] we are trying to find a balance between bigger phones and smaller wearables," Mr Xu said.
Stuart Miles, founder of review website Pocket Lint, said there was a market for small phones.
"As phones have got bigger and bigger there is an urge for people to just want something small to put in their pocket," he said.
"This phone is clearly trying to tap into that supposed need, but I do wonder whether a smartwatch with 3G calling would offer you the same, if not more functionality."
The Jelly phone, which Unihertz calls the world's smallest 4G phone, was developed after its maker raised more than $1.2m (£0.9m) in crowdfunding.
It is available in the UK, US and in many other countries but it is not compatible with the CDMA mobile standard, which means it will not work with some mobile phone networks including Verizon and Sprint in the US.
Unihertz also decided to stop providing plugs for the device, which now comes with a USB cable only.
"We realised that due to the different standards of the charger products, it's harder for us, so we have removed the plugs," said Mr Xu.
"I think most people already have a plug."
Source: BBC